Last updated on Nov 16th, 2023 by Heena Ganotra
Australia is a multi-cultural country with numerous unique food options to suit all tastes. The migrants from across the globe who immigrated to Australia introduced their culinary traditions which along with the traditional Australian food culture, brought about varied changes in the Australian food industry. Starting from the comforting traditional food, exciting street foods to fusion cuisines, you can find almost any variety of food that you fancy in Australia. You can devour an abundance of fresh food all year round.
So, to give you a brief idea about the Australian food culture, MyTicketsToIndia has brought a list of different types of food items that you must relish after you reach Australia.
Traditional Australian Food
Lamington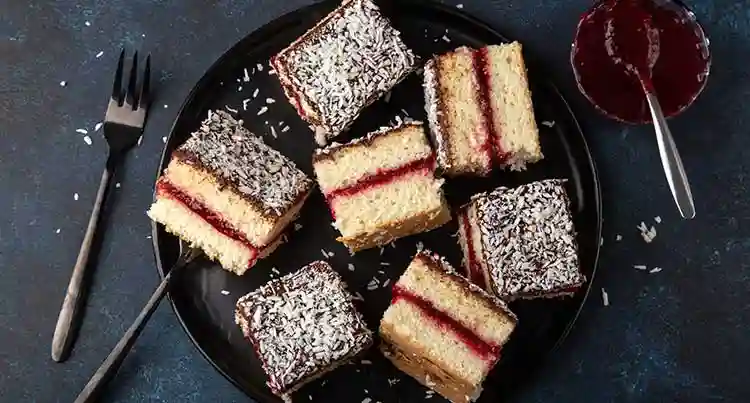 Guess what is a famous food in Australia? If you are a sweet lover or have a big sweet tooth, you must not miss savoring the luscious taste of this Australian cake named Lamington. It is prepared from squares of butter cake or sponge cake coated with an outer layer of chocolate sauce. The prepared piece is then rolled in desiccated coconut and the preparation is truly among the best Australian dessert dishes. You can also find a layer of cream or perhaps even jam as you take a bite. It is an Australian culinary icon, which is believed to have been accidentally created by a maid-servant to Lord Lamington.
Aussie Meat Pies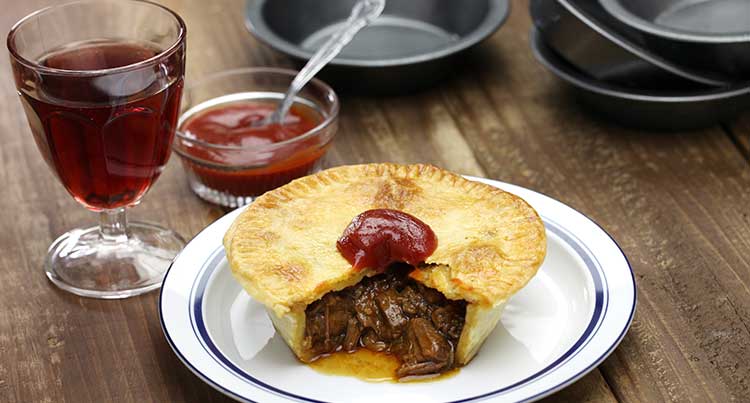 It is a hand-sized meat pie, stuffed with minced or diced meat and gravy. To bring variations in this food item, people use cheese, onion, mushrooms, and others as stuffing. Meat pie, famous food of Perth, is served with an ample amount of tomato sauce on top. Book your flights to Perth now, and enjoy the traditional Australian food list.
Barbecued Snags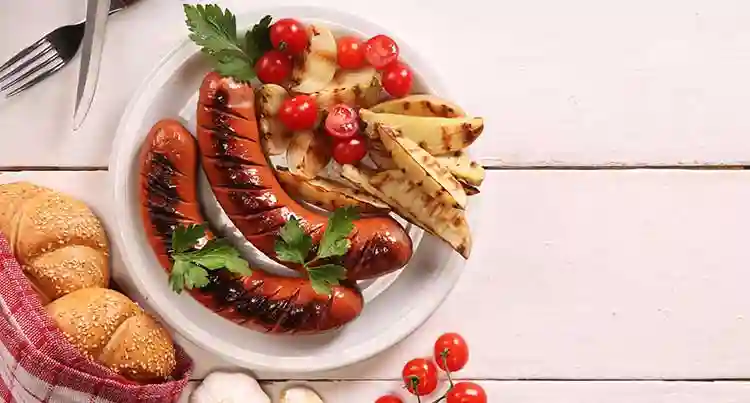 It is known that Australians love to eat grilled food, so, how can a Barbie go miss? Considered to be one of the best traditional Aussie foods, Barbecued Snag is a thick mild-flavored sausage that is prepared with the combined flavors of beef and pork. These snags are often put into a piece of bread and are topped with onions and tomato sauce.
Pavlova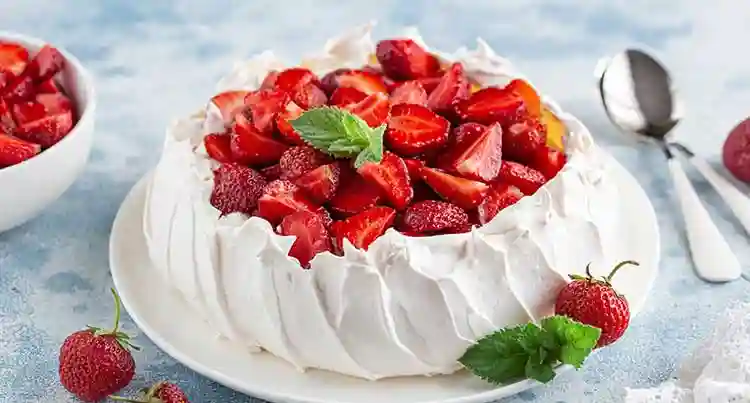 An Australian BBQ is indeed incomplete without the flavor of the Australian after-dinner dessert, Pavlova. It is an airy dessert made from crisp meringue shell topped with whipped cream and fruit. The most interesting part of this sweet is that it is topped with fresh tropical and vibrant colored fruits including passionfruit, strawberries, kiwi, among others. Although the origin of the Pavlova has become a never-ending debate between Australia and New Zealand to claim it as their own.
Chicken Parmi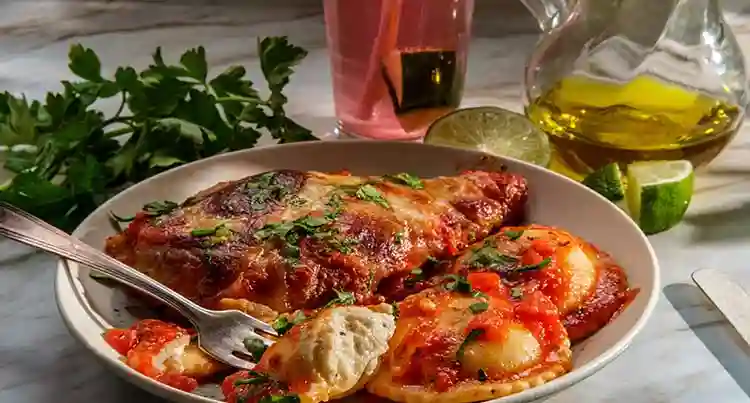 One of the most famous foods of Australia, Chicken Parmi is rightly called an evergreen food-pleasure. It is a breaded chicken breast sautéed and layered with tomato sauce and different types of cheese. It is a staple food of Australia, which originated in the 20th-century and is now gaining popularity all over the world, especially in Europe and the United States.
Vegemite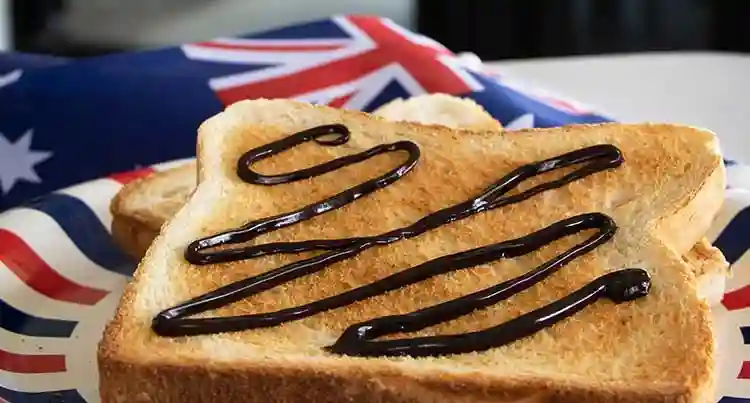 Considered to be the love symbol of the Australian nation, Vegemite is a thick dark brown yeast spread that is a great source of vitamin B. Vegemite is a famous Australian food and is best to have for any meal, be it breakfast, lunch, or even as an anytime snack. Created by a Melbournian, Vegemite is a delicacy loaded with health benefits.
Roast Lamb (National Dish of Australia)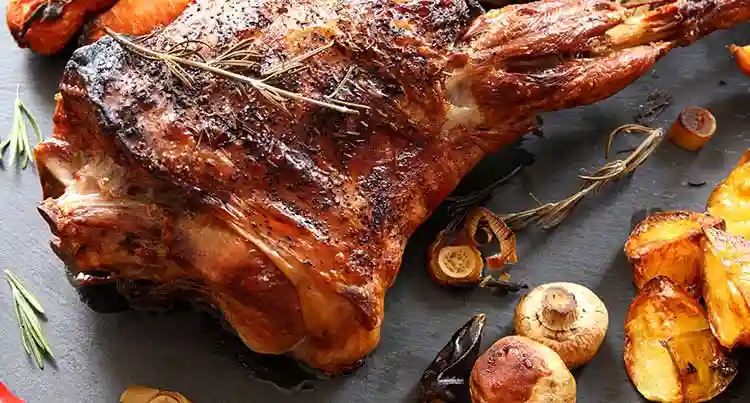 It is Australia's national dish. The lamb meat is basted with garlic, oil, and herb mixture and then cooked in the oven. The national food of Australia tastes divine because of the juicy taste of the meat and is rightly famed as the national dish of Australia. It is also one of the iconic dishes of Melbourne. Book your flights to Melbourne soon and indulge in the era of flavors.
Grilled Kangaroo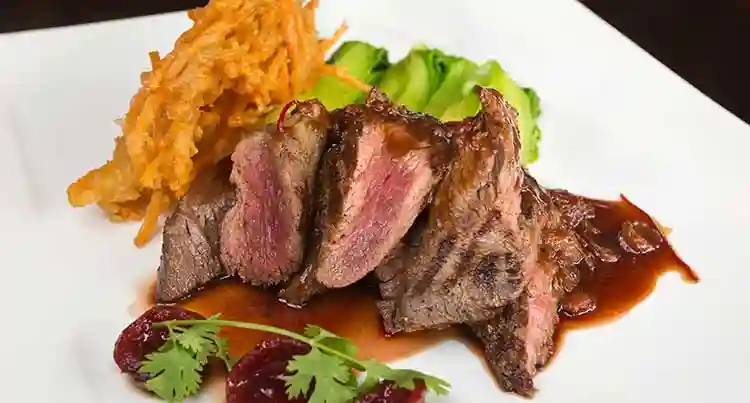 Grilled Kangaroo is Australia's famous food item, it is a union of the traditions of Aborigines and English colonialists. Kangaroo's meat is stated to be the healthiest meat and has a very low-fat content. Kangaroo meat can dry out very quickly; hence, this meat is cooked rare to medium. The most popular food in Australia has different health benefits. Starting from reducing obesity to controlling anti-carcinogenic and anti-diabetic properties, grilled Kangaroo is also listed among the traditional aboriginal food recipes.
Pumpkin Soup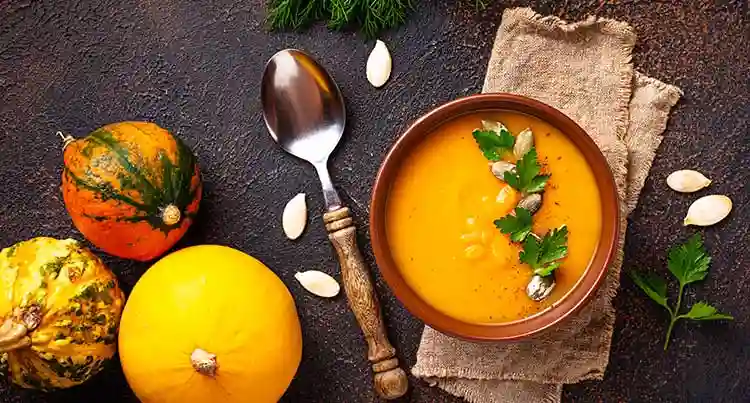 Best served in the colder months, Pumpkin soup is easily available at every corner of Australia and is an ideal family-friendly meal. It is prepared in myriad flavors; starting from spicy Thai versions to silky cream permeated blends, Pumpkin soup is one of the much-loved Australian cuisines and is categorized under well-known Australian food.
Best Australian Street Foods
Pigs in a Blanket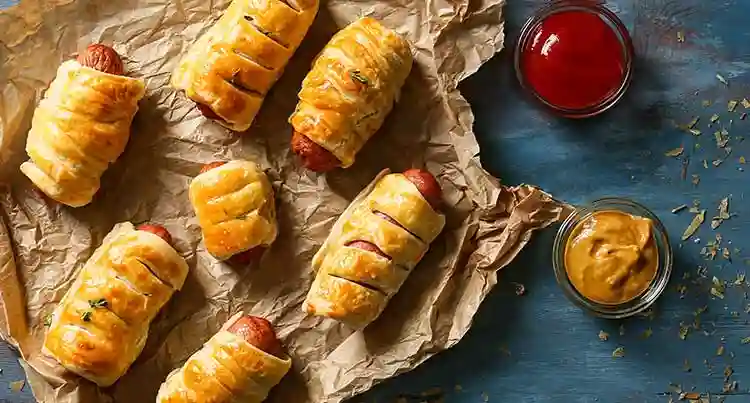 This is one of the most popular Australian snacks when it comes to famous Australian fast foods. These are tiny pork sausages blanketed with bacon strips and neatly served on sticks.
Fish and Chips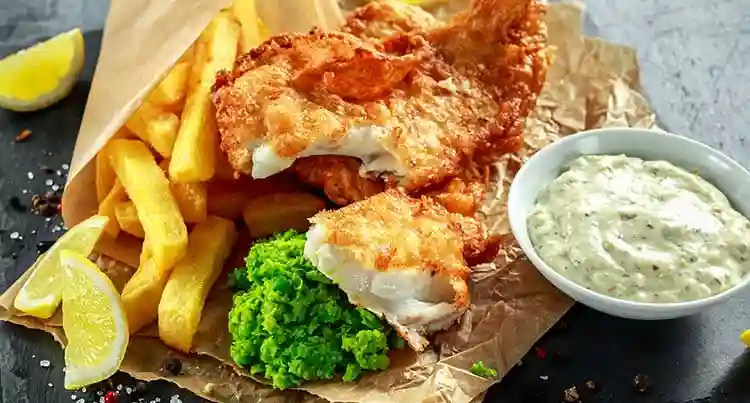 It is no less than an iconic experience to enjoy the iconic Australian fast-food Fish and Chips. The first Australian fish and chip shop is considered to be first made by Greek migrant Athanasius Comino, He opened his shop in 1879 on Sydney's Oxford Street. With the most delicious fresh fish in its waters, Fish and Chips is the best seafood, you must try.
John Dory Fillets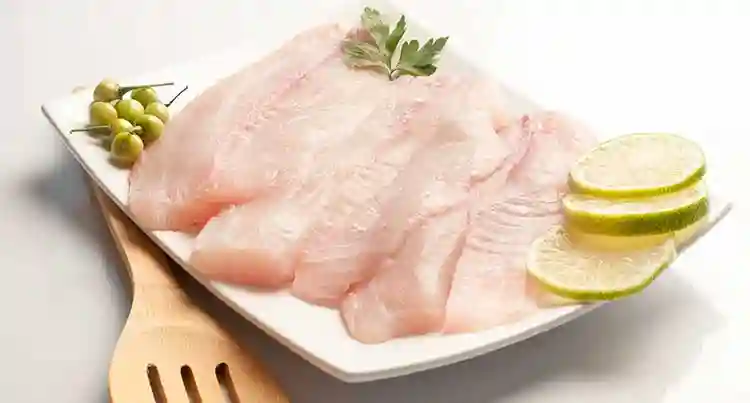 Simple yet delicious! These are the perfect words to describe this dish. John Dory Fillets is a much-loved mild and sweet-flavored Australian snack. It is usually served with salad, chips, herbal oil, or even mashed potato.
Crab Sticks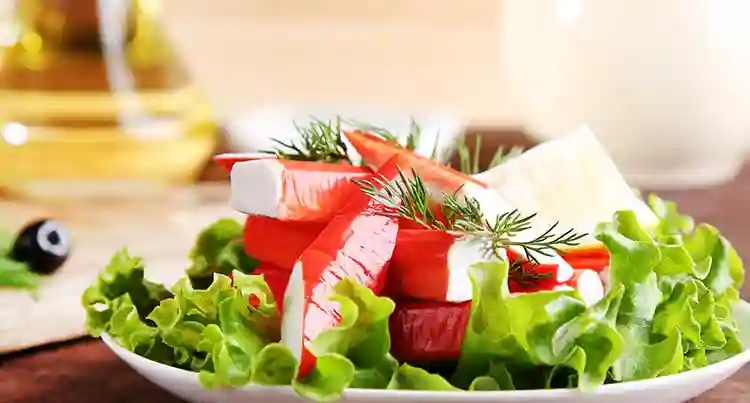 This Australian food is a snack food at heart. Interestingly, the crab sticks are not made out of crabs. Crab sticks are made of small pieces of fish, dipped in batter and fried in the shape of crab legs. Sriracha and soy sauces are considered to be great crab stick companions.
Barramundi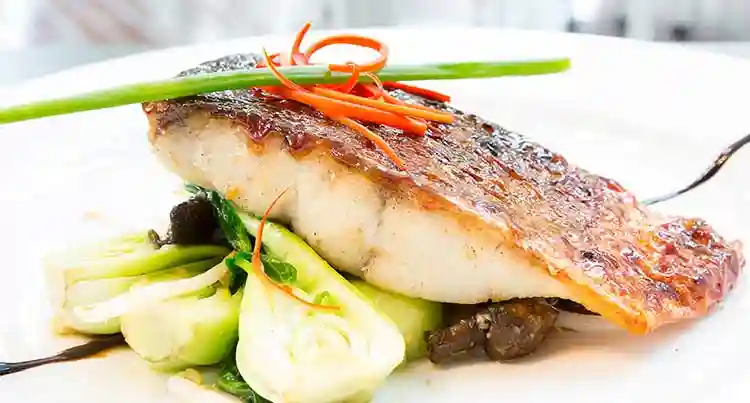 It is one of the iconic Australian food items in Sydney. Barramundi is soft buttery meat with crispy skin and is truly delicious food to relish. Complimented with a mix of spices and herbs, but Barramundi can best be enjoyed on the streets of Sydney. Book flights to Sydney to savor the delectable taste of this amazing recipe.
Dagwood Dog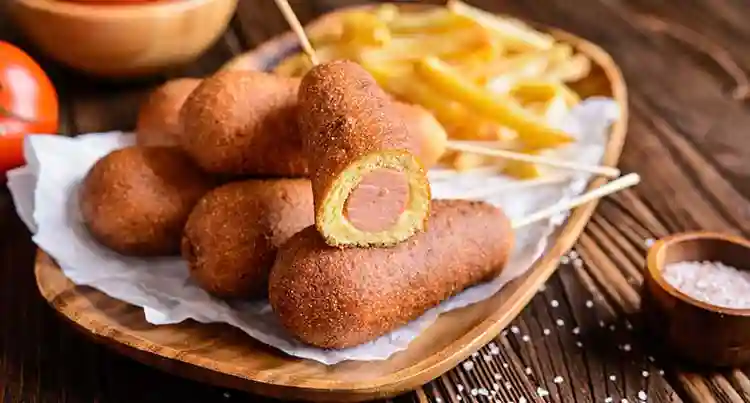 If you are in Australia, you can't miss this street food. Dagwood Dog is a stick coated with meat, then deep-fried to crisp, and topped with tomato sauce. It is truly a delicious treat while looking for the best street food in Australia.
Chiko Roll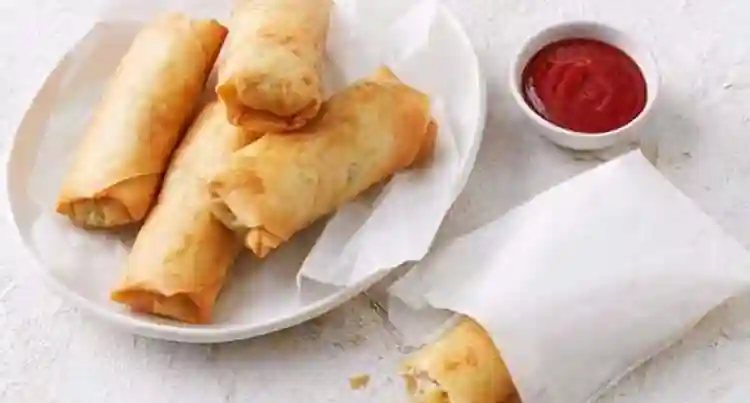 It is an Australian savory dish. It is like spring rolls, with a variety of vegetables and beef as its stuffing. The snack was designed to be easily eaten on the move without cutlery.
Burger with Beetroot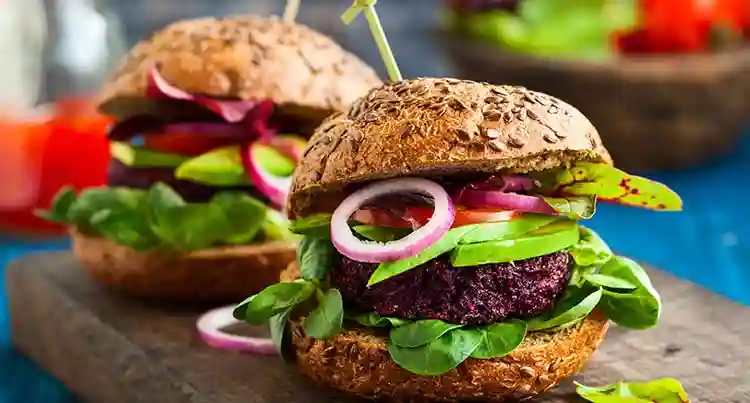 Australians love beetroot, and this recipe is a representation of their fondness for beetroot. It is a preparation of hamburger wrapping stained by beetroot juice. This Australia famous food is bright red unique dish has a ton of health benefits, including increased stamina, lowering blood pressure, and promoting liver function.

There are many other famous delicacies of Australia which one should not miss during their tour to that country. So, don't be late! Book cheap flights to Australia with MyTicketsToIndia and enjoy the best experiences of life. Hurry up! Book your tickets soon.
Preferred India-Australia Flight Routes
Melbourne to Delhi Flights
Sydney To Delhi Flights
Melbourne To India Flights
Sydney To Hyderabad Flights
Delhi To Melbourne Flights
Melbourne to Hyderabad Flights
Mumbai To Sydney Flights
Delhi To Adelaide Flights
Flights To India From Sydney
Delhi To Sydney Flights
A writer by both passion and profession, Heena Ganotra is "half agony, half hope" but all heart. And oh, she has been a book lover from the start! Her love for books is what convinced her to make a career in the wonderful world of words. She loves what she does and is out-and-out a satisfied soul with a wish to spread happiness and kindness in abundance. Insight- Some say she is living the best life anyone could because she reads, writes, travels, and makes merry. They're right because what else does one really need! :)