India Vs Pakistan Cricket Match On October 14, 2023 –  ICC Cricket World Cup 2023
Nothing ignites passion quite like an India vs Pakistan duel in the world of cricket rivalries. Amidst the captivating narrative of the ICC Cricket World Cup 2023, a pivotal chapter is set for October 14th in Narendra Modi Stadium in Ahmedabad. So, brace yourself for an outstanding cricketing 'India Vs Pakistan Cricket Match" that transcends borders and evokes unmatched excitement. So, why wait? – reserve your flights to Ahmedabad today!
Book Australia to Ahmedabad Flights Now!
IND vs Pakistan 12th World Cup 2023 Match Highlights
Here we are – India WON! Hooray!🎉🥳
India displayed a dominant performance against Pakistan, securing with a seven-wicket win at the Narendra Modi Stadium in Ahmedabad.
Led by the impressive half-centuries from Rohit Sharma and Shreyas Iyer, India sealed a decisive seven-wicket victory over Pakistan. The team's success in bowling out Pakistan for 191 was the result of a collective effort, with Jasprit Bumrah, Kuldeep Yadav, Hardik Pandya, Mohammad Siraj, and Ravindra Jadeja each making valuable contributions by taking two wickets.
This victory further solidifies the host team's impeccable start in the ICC Cricket World Cup 2023, marking their third consecutive win.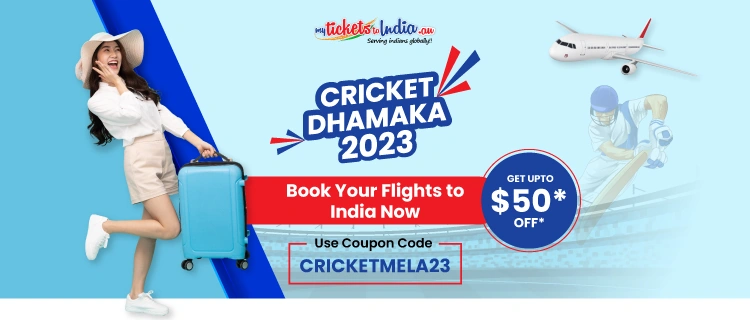 When it comes to flights from Australia to Ahmedabad, the choices are plenty. Select the route that aligns with your requirements and preferences –
Popular Routes From Australia to Ahmedabad Airport
Note – Situated about 8.3 km from Ahmedabad Airport (AMD), Narendra Modi Stadium, Ahmedabad is easily accessible. With numerous transportation choices available, reaching the stadium from the airport is a breeze.
12th ICC WC Cricket Match Schedule – India vs Pakistan
| | |
| --- | --- |
| Match | India Vs Pakistan | 12th ICC World Cup 2023 Match |
| Date | October 14, 2023 |
| Timing | 2:00 PM Local | 08:30 AM GMT |
| Venue | Narendra Modi Stadium, Ahmedabad |
Reserve India Vs Pakistan World Cup Match Tickets
A storm of excitement surrounds the India vs Pakistan match in ICC Cricket World Cup 2023. Offline tickets will be scarce, so opt for digital avenues like the official ICC website or reliable ticketing associates to guarantee your place. Ticket costs are foreseen to span from Rs 500 to Rs 10,000.
ICC WC 2023 Pakistan & India Players List
From the names mentioned below, a distinguished 15 players from each team will have the privilege of showcasing their talent in the much-anticipated ICC World Cup 2023 event.
| | |
| --- | --- |
| Team India | Team Pakistan |
| Rohit Sharma (Captain) | Babar Azam (Captain) |
| KL Rahul (Vice Captain) | Shadab Khan (Vice Captain) |
| Virat Kohli | Fakhar Zaman |
| Shubman Gill | Mohammad Wasim |
| Suryakumar Yadav | Asif Ali |
| Axar Patel | Mohammad Haris |
| Mohamed Shami | Ihsanullah |
| Rishabh Pant | Mohammad Hasnain |
| Hardik Pandya | Haider Ali |
| Mohammed Siraj | Imam-ul-Haq |
| Jasprit Bumrah | Mohammad Nawaz |
| Arshdeep Singh | Mohammad Rizwan |
| Shreyas Iyer | Naseem Shah |
| Ishan Kishan | Haris Rauf |
| Sanju Samson | Shaheen Shah Afridi |
| Rajendra Jadeja | Abdullah Shafique |
| Yuzvendra Chahal | Salman Ali Agha |
| Washington Sundar | Iftikhar Ahmed |
| Umran Malik | Tayyab Tahir |
| Kuldeep Yadav | Usama Mir |
We've covered all the essentials about the ICC World Cup India vs Pakistan Cricket match set for October 14, 2023. Keep in touch to know the complete schedule of Cricket World Cup 2023. Check all the latest updates here!
Other World Cup 2023 Matches
Be ready for a cricketing spectacle i.e. India vs Australia cricket match of the ICC Cricket World Cup 2023 on October 08, 2023. The MA Chidambaram Stadium, Chennai will be alive with excitement. Go through the full schedule here!
Other Matches You Can Enjoy
Does cricket flow in your veins? We get it! You can enjoy these matches apart from this one.
Book Your Flights To India With MyTicketsToIndia
Reserve your flight tickets today and be ready to witness cricket's biggest rivalry India vs Pakistan cricket match! At MyTicketsToIndia, we're committed to ensuring your flight tickets to India are affordable and convenient. Our dedicated team guarantees a smooth booking process and a comfortable journey. No hidden charges – we believe in being straightforward. So, stop wondering and book your budget-friendly Australia to India flights and be part of this legendary match.

We're here for you round-the-clock. Reach us at +1800-860-816 or engage in a live chat for immediate assistance. Make your calendars and be part of this exciting match!
Renu Dahiya is a passionate writer who worships her profession. Her love for writing has encouraged her to pursue her career as a writer. Her friends call her a "travel worm" and always come to her to know some interesting traveling tips and destinations. Renu is a repository of knowledge about traveling who knows which place should be visited in which season. Oh yes, she is insanely in love with dancing too. Writer, traveler and dancer, a perfect combination! Without a doubt, she is a complete package.