Last updated on Nov 16th, 2023 by Heena Ganotra
Endowed with exceptional graffiti-covered walls, bustling laneways, captivating museums, and world-class restaurants, Australia's second-largest Metropolis, Melbourne, has rightly earned fame as Australia's capital of cool. The city has umpteen things to discover and experience in the field of art, sports, music, festivals, and fashion. Colourful and lively Melbourne boasts a sense of lean, youthful, adventurous, and beautiful thoughts of the people residing there. Nestled on Victoria's beautiful coast, there is plenty of nature and wildlife in Melbourne as well. There are indeed numerous exciting things to do in Melbourne city and you just need to traverse them.
Now, when you are ready to visit the beautiful city of Melbourne, we have sorted the list of popular Melbourne tourist attractions that you must visit after reaching there. Enjoy the fascinating flavors of Melbourne by booking your flights to Melbourne with MyTicketsToIndia soon.
Melbourne Places for Day Tours
National Gallery Of Victoria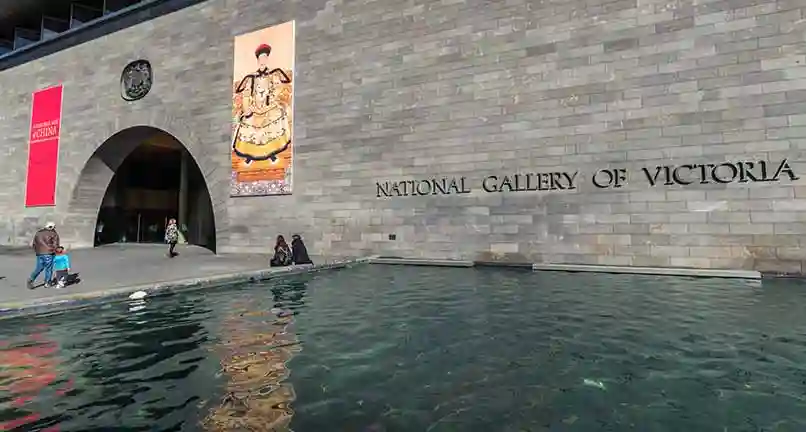 Being the oldest and the most popular gallery in Australia, the National Gallery of Victoria houses more than 70,000 works of art in two city locations. Located over two striking buildings of Melbourne- NGV International and NGV Australia buildings, the gallery flaunts a wide range of international and local artists, exhibitions, and events. From contemporary art to major historical exhibitions, sound and dance, fashion and design, the place is brimmed with startling works. Also, the perfect blend of European, Oceanic, Asian and American art is truly noteworthy.
Federation Square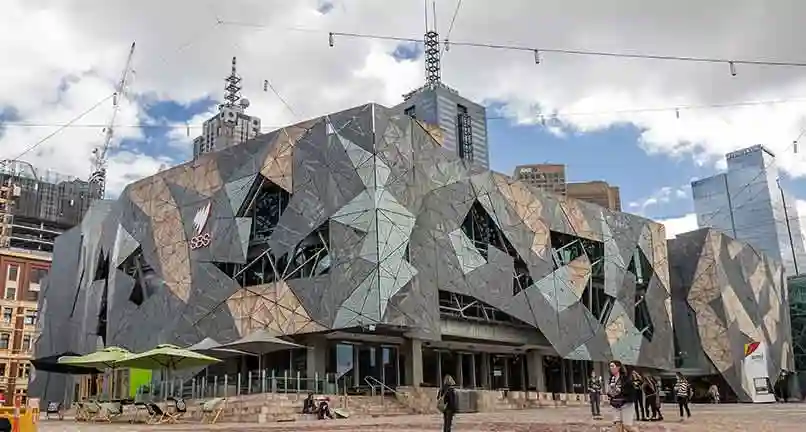 Popularly known as the Fed Square, Federation Square is the world's best cultural and entertainment destination and is counted among the best Melbourne tourist attractions. Situated across the Flinders Street Station, the building portrays an ultra-modern design of open and closed spaces blanketed with Victorian architecture. It presents a creative blend of galleries, events, amazing shopping experiences, and delectable dining to travelers. Each year more than 2000 events are hosted at Federation Square. Also, the square is the center space of numerous of Melbourne's important events, including the Melbourne International Film Festival, Melbourne Jazz Festival, and others.
Royal Botanic Gardens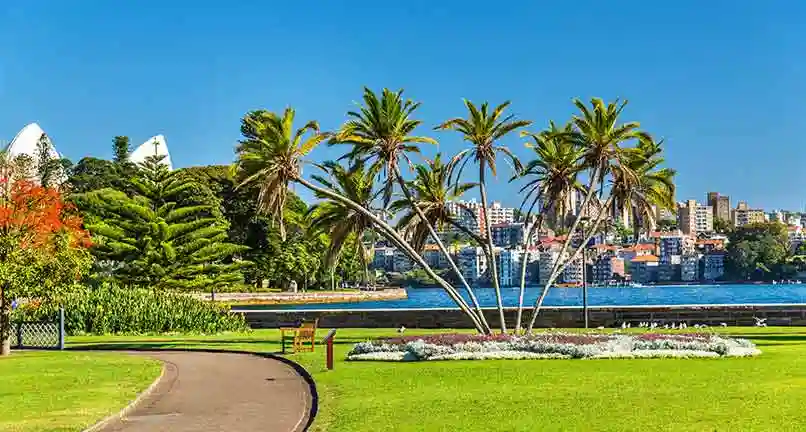 To escape the noise and bustling life of Melbourne, you can choose to take a stroll at the Royal Botanic Gardens. This 36-hectare park houses more than 8,500 plant species, including the threatened species, along with lush lawns and tranquil lakes. Further, the Children's Garden is a famous attraction spot, which has an interactive educational environment. Numerous other attractions include the Melbourne Observatory, Guilfoyle's Volcano, Plant Craft Cottage, the Tropical Glasshouse, and sculptures dotted around the site. Royal Botanic Gardens is also a popular picnic spot. If you sit and think about 'What to do in Melbourne,' do recall the places to visit in Melbourne.
Melbourne Cricket Ground and the National Sports Museum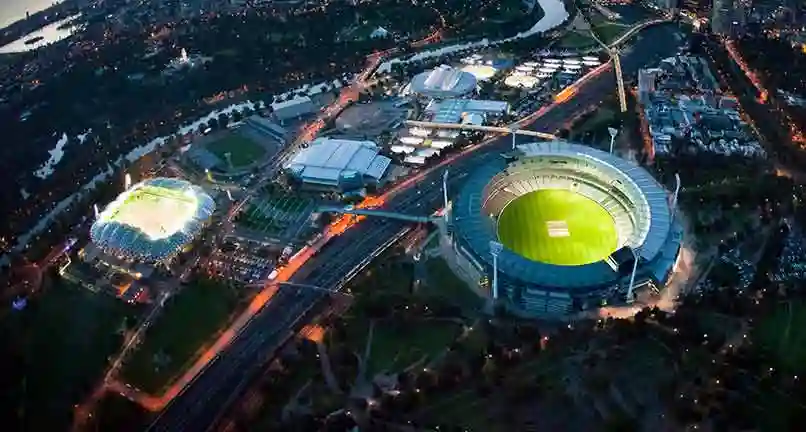 Being the sports capital of Australia, Melbourne Cricket Ground is the 10th largest stadium in the world, with a seating capacity of 100,024. The place is one of the iconic Melbourne landmarks that has seen major events, including Olympic Games, the annual Boxing Day Test Match, the Commonwealth Games, and the Australian Football League (AFL) Grand Final. This legendary stadium is also home to Australian Sports Museum. The museum presents the Australian Gallery of Sport and Olympic Museum. So, don't miss the opportunity to explore this evocative place in Melbourne.
Eureka Tower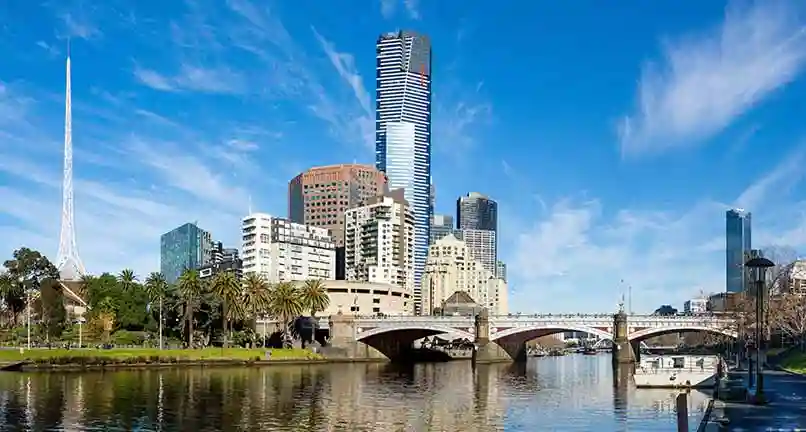 The Eureka Tower is Melbourne's tallest building that holds Australia's highest observation deck, the Eureka Skydeck. The tower stands 91 stories above the ground, located in the Southbank, and is among the best places to visit in Melbourne. The sight of the skyscraper's gold crown and gold-plated windows glitters brightly as the sun spreads its light on the top of the building. The thrill-seekers can step into The Edge, a glass cube that extends itself 3 meters out from the building. The tower paints an incredible sight of the whole city, which is sure to get captured in your heart forever.
Arcades And Laneways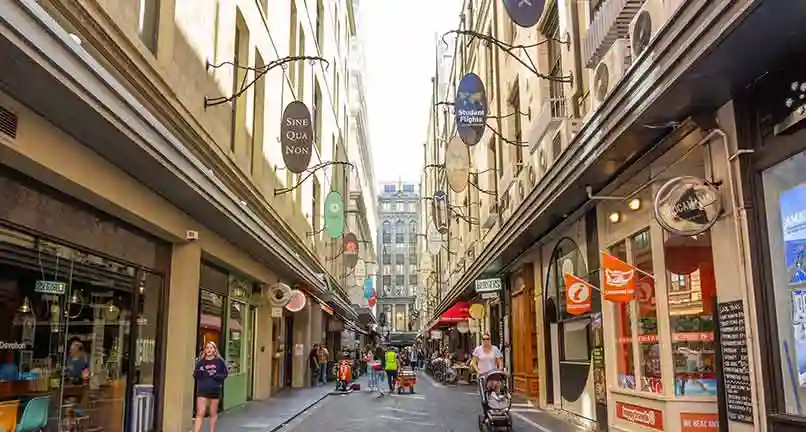 Bustling with some fantastic street art, shopping arcades, quaint boutiques, Euro-style cafes and alfresco dining, the Arcades and Laneways of Melbourne carries their own unique charm. Many of these laneways soak in Victorian-era architecture like the Royal Arcade, which is also the oldest arcade. The Block Arcade in Collins Street is one of the most magnificent arcades and is one of the famous Melbourne tourist attractions. Having a beautiful mosaic floor and distinctive shops, this Block Arcade, where late 19th-century gentry esplanade, is perfect for spending some cherishable moments with loved ones. This Melbourne visiting place is a suitable reply to your' what to do in Melbourne' query.
Melbourne Museum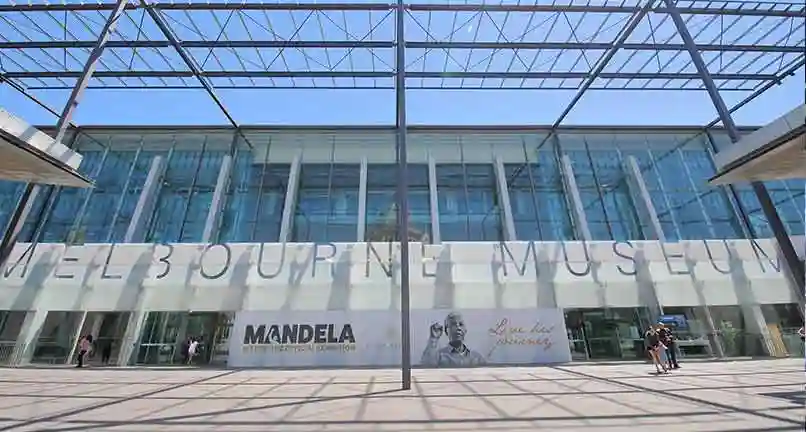 It is one of the largest museums in Australia that was established in 2000. The museum is rich in natural and cultural history, surrounded by beautiful gardens and parkland. It houses some of the best Victoria's State Collections, which hold over 17 million items. The collection includes displays of indigenous Australian culture, geology, Pacific Islander cultures, paleontology, historical studies, zoology, and others. Moreover, the library collection has some of Australia's rarest examples of 18th and 19th-century serials and scientific monographs.

Besides the above-stated places, there are numerous other exciting Melbourne visiting places. Some of the breathtaking landmarks of Australia are situated here. You can also savor the luscious taste of the iconic cuisines of Australia. Don't get late! Book cheap flights to Australia from India with MyTicketsToIndia.
MyTicketsToIndia is a leading travel portal that offers cheap flights to Melbourne from India. Our tie-ups with reputed airlines and airline consolidators allow us to get you the cheapest flight to Australia. Our efficient team maintains 100 % transparency and offers swift refunds. Also, our highly-trained travel experts are available 24*7 to assist you with the minutest query at any moment. Book your tickets to Australia ASAP. Remember, we are just a call away!
More Articles Related to Australia Travel
9 Best Places To Visit In Australia During 2022.
9 Hidden Beaches In Australia That Will Make You Frenzy
A writer by both passion and profession, Heena Ganotra is "half agony, half hope" but all heart. And oh, she has been a book lover from the start! Her love for books is what convinced her to make a career in the wonderful world of words. She loves what she does and is out-and-out a satisfied soul with a wish to spread happiness and kindness in abundance. Insight- Some say she is living the best life anyone could because she reads, writes, travels, and makes merry. They're right because what else does one really need! :)