Last updated on Nov 14th, 2023 by Heena Ganotra
When you book a flight, you never willingly pick a middle seat. No one wants to be squished between two people unless they have no choice. But the recent promotions from Virgin Australia may change your mind.
The Australian airline is aiming to reward people who are stuck in the middle seat. This new, unique middle-seat lottery program by Virgin Australia could get you rich rewards!
Virgin Australia's Exciting Middle Seat Lottery
Middle seaters now have a reason to rejoice. Virgin Australia is offering over 26 prizes to people in middle seats. The prizes cost around AUD 359,000 in total, so there's bound to be something interesting.
The event starts on 24 October 2022 and will run up to 23rd of April 2023, so there's ample time for you to book tickets and participate in the event.
Competition Starts: 24 October 2022
Competition Ends: 23 April 2023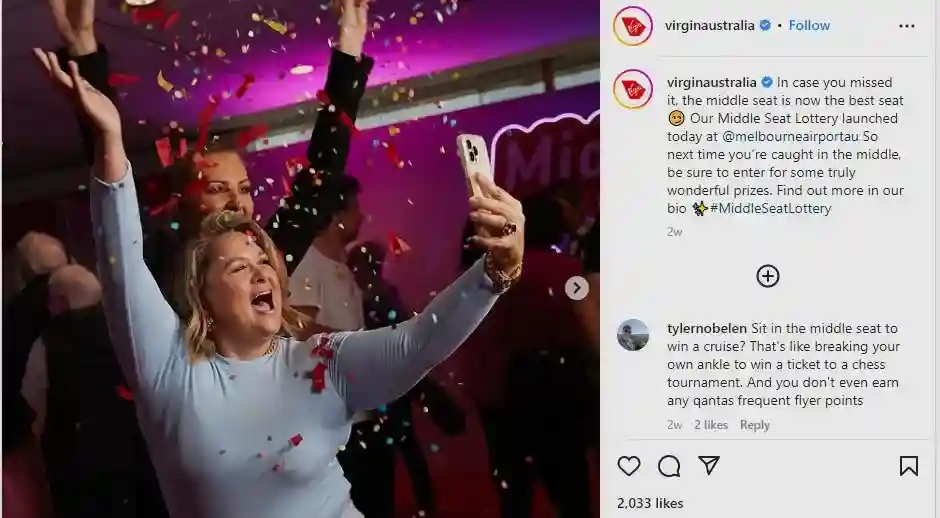 What Can You Win?
The prizes include a number of fun and interesting things like:
Velocity Platinum Status, including a million points.
Caribbean cruises with the company's cruise line.
Return flights to US on premium economy, in partnership with United Airlines.
Custom artworks by an established Australian artist.
Cairins adventure tour package, which will include accomodation, adventurous events like bungy jumping, river rafting, giant swing, and more!
Doesn't all of this sound appealing? All you need to do is stay put in the middle seat for a while and you could be going on a cruise!
Who Can Participate?
There are some rules! Not all flyers will be eligible to participate. Some of these rules are mentioned below:
Customers should be members of Velocity Frequent Flyer rewards program.
They should be above 18 years in age.
Customers that are assigned middle seats during check-in and those who have picked a middle seat are eligible.
To enter this competition, you need to tap on the Middle Seat Lottery tab on your Virgin Australia app, find your flight, and mention all the required details.
This must be done before 48 hours of your departure.
People have already won prizes! So don't hesitate to participate.

Virgin Australia – One of the Big Three
Virgin Australia is the 3rd most popular major airline in Australia. It operates flights to destinations all over the world and has a good reputation regarding its quality of service. Virgin Australia offers economy, premium, business, and first class travel. You can also get access to great lounges and frequent flyer programs.
Easy Access to Entertainment
If you're on a long-haul flight, you may want some entertainment. Virgin Australia in-flight Wi-Fi comes as a savior. You can also find Wi-Fi in airport lounges while you wait for your flight. Just make sure your devices are fully charged and pack your charger with you.
Lost Baggage? No Problem
Virgin Australia also has a good system in place to track and handle lost baggage. You can contact the airline if your baggage is lost, damaged, or delayed. Every airline has their own regulation regarding this and Virgin Australia is no exception. Here are the steps you can follow for Virgin Australia lost baggage claim.
Well, that's pretty much it!
Ready for your trip and looking forward to participating in this lottery? Contact us at MyTicketsToIndia today! We will find an affordable Virgin Australia Middle seat for you and help you through the booking process. Specialized in cheap India flights and back, we make bookings really easy and fast for our passengers, all the while keeping in mind their needs and requirements.
A writer by both passion and profession, Heena Ganotra is "half agony, half hope" but all heart. And oh, she has been a book lover from the start! Her love for books is what convinced her to make a career in the wonderful world of words. She loves what she does and is out-and-out a satisfied soul with a wish to spread happiness and kindness in abundance. Insight- Some say she is living the best life anyone could because she reads, writes, travels, and makes merry. They're right because what else does one really need! :)