Last updated on Nov 16th, 2023 by Priyanka Jadhav
Last year the Australian government imposed stringent regulations across the country in a bid to limit the spread of coronavirus. It has decided to reopen its borders from November 2021. This helps citizens of Australia to travel abroad and Indian citizens will also be able to travel to Australia. In March 2020, however, Scott Morrison, the Australian Prime Minister, disclosed that international visitors were barred from the country. These restrictions do not apply to health and humanitarian workers and families of the residents of the country.
The government of Australia implemented measures to limit the spread of Covid-19 and this action was taken after observing the coronavirus spread throughout the country. At the beginning of the pandemic, the country of 25 million citizens recorded over 30,000 daily cases. The travel restrictions helped eliminate the spread of coronavirus at a massive scale by implementing measures like harsh border closures, strict lockdowns, intensive testing, and contact tracing.
Statistics of Coronavirus Cases in Australia 2020-21
The first case reported in Australia was of a man who had returned from Wuhan, China and tested positive in January 2020. The Australian government acted as fast as possible and shut the doors to international travelers on March 20, 2020. And a day later, the government sent out a notice of social distancing rules that should be followed mandatorily.
During March, the number of active cases was about 300 to 350 per day and was slowly decreasing with the stringent measures in place. The second wave emerged from May to June in Melbourne, Victoria with active cases increasing up to 7000 cases per day. The second wave ended in October with zero new cases. No deaths due to coronavirus were recorded from then till April 2021 until the Delta variant outbreak.
Currently, Australia has reported more than one lakh active cases, over 30, 000 recoveries, and 1000 deaths. However, nearly 80% of the adult population (16 years old and above) has received their first dose of vaccination against coronavirus and 55% have been fully vaccinated. It will take time till next month to get at least 80% of the population fully vaccinated. This will benefit the travel industry and reopen international travel.
Vaccinations Against the Spread of Covid-19
According to the Australian Government Department of Health, everyone aged above 12 years is allowed to get vaccinated. Here are the approved vaccines as follows:
BioNTech, Pfizer Vaccine
Johnson & Johnson Vaccine
Moderna Vaccine
Oxford, AstraZeneca Vaccine
Sinovac, Covishield Vaccine
An Opportunity for Fully Vaccinated Australians to Travel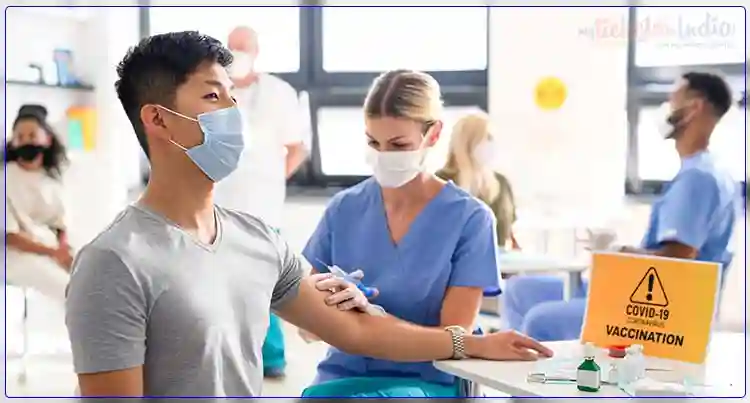 The Australian government recently announced that it will lift the pandemic-related restrictions for fully vaccinated citizens of Australia in November. This announcement comes after the U.S government decided to reopen the country for international travelers to visit in November.
Under Australia's plan for fighting against the spread of coronavirus, the easing of travel restrictions will only happen when 80% of the population is vaccinated. Then these provisions would be applied as the next step:
Fully vaccinated individuals (Australian citizens or permanent residents of Australia) are allowed to travel abroad.
Fully vaccinated individuals who are overseas can return to Australia but would be required to home quarantine for 7 days.
Australians who aren't vaccinated or are not eligible for it yet, such as children below the age of 12 will be treated as vaccinated for travel.
Guidelines for International Air Travel to Australia
With no news of when coronavirus will come to an end, Australia has not decided about opening the doors for foreign nationals to visit the country. The Australian prime minister stated that foreign tourists will most likely not be welcomed in the country until the next year.
Read More: State-wise Quarantine Guidelines For Travelers From Australia To India
Can Australians Travel to India?
In November, the Australian government will allow fully vaccinated Australian citizens and permanent residents to book flights to India.
Earlier India was marked as a high-risk nation by Australia and travel between both countries was banned, regardless of an individual's vaccination status. However, there were some exemptions that allowed passengers to travel to and from India like:
Citizens of India can assist Australia against the spread of the virus
Individuals escorting minor citizens of Australia in the country
Visiting family members who are critically ill or during death
Individuals working for Australia's welfare

Precautions Taken While Traveling From Australia to India
An individual traveling to India must remember to carry a visa. If the government of Australia approves the visa, then one must carry a negative RT-PCR test conducted 72 hours before the flight departs. The average flight time from Australia to India is 9h 31m and all fully vaccinated Australian travelers are required to follow the airport and airlines guidelines against Covid-19.
Frequently Asked Questions
Q: Who is allowed to travel from India to Australia?
Ans: Australia opens borders for international travel. There are key exemptions for citizens of India who are allowed to travel to Australia:
a) Key employees of India in position to assist Australia's national welfare:
A foreign national entering Australia at the request of the government.
A foreign national working in the main sectors in Australia.
b) Students under the International Students Arrivals Plan and students in medical school with a confirmed placement in any medical field in Australia.
c) Indian citizens escorting minor citizens or permanent residents of Australia.
d) Visiting an ill family member or at the death of a family member.
Q: Can I travel from Australia to India now?
Ans: Yes, you can travel to India which is currently under the moderate travel restriction category. You are required to carry a negative RT-PCR test before the flight departure. Individuals from Australia must quarantine on return as well.
Q: I am a foreign diplomat traveling to Australia. Am I required to meet the pre-departure testing requirements needed to enter the nation?
Ans: A foreign diplomat is required to carry the following documents as a pre-departure testing process to enter Australia:
A negative RT-PCR test took 72 hours before the flight departure.
Acknowledgment form provided by Australian Government for foreign diplomats.
Q: Is there anything more required other than the negative RT-PCR test to travel to Australia?
Ans: All passengers aged five and older traveling internationally to Australia must carry:
A negative Covid-19 RT-PCR test took 72 hours before flight departure.
All travelers should fill the Australia Travel Declaration form 72 hours before departure.
With the Declaration, individual travelers must submit flight information, health status, and quarantine requirements.
More Related Articles
State-wise Quarantine Guidelines For Travelers From Australia To India
COVID-19 Update: No Pre-Departure RT-PCR Required For Australia To India Travel
Covid Curbs Relaxed, Regular Flights Likely To Resume In A Month
Covid 19 Australia Travel Restrictions | When Will International Travel Australia Ban Lift?
Latest: Australia to Allow Travelers to Enter Without a Pre-Departure Covid-19 Test
India to Australia Travel Demand Increases: Numbers Expected To Reach Pre-Covid Levels
Priyanka Jadhav is a travel writer, who is inclined to explore different cultures and countries. When she is not writing, she is either reading fiction novels or surfing the internet for the next best place to add to her bucket list. Her interests piqued at a young age when she traveled across India and witnessed a variety of cultures, languages, foods, and people. If you're craving for an adrenaline rush, or need an instant travel update - Priyanka has a way with words to help you in every aspect possible. Bring quirky articles and the latest travel updates your way through MyTicketsToIndia, she aims to provide travelers with the necessary information possible.