Top-rated Indian Restaurants in Gold Coast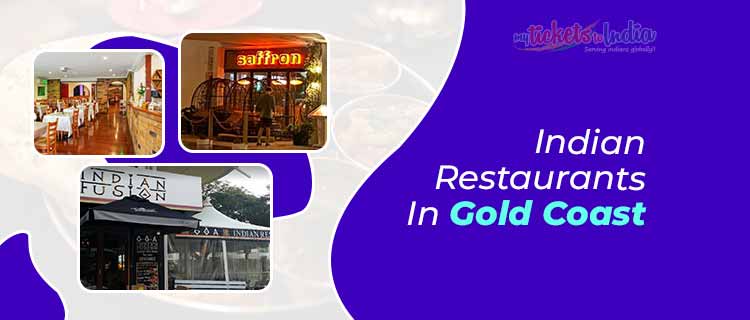 Posted on Apr 1st, 2022 by Heena Ganotra, Last updated on May 26th, 2022
Craving for your favorite Indian food in Gold Coast? But are unable to find authentic Indian restaurants in Gold Coast, we are here to help you out. We have compared and researched and brought to you a list of the top ratted authentic Indian restaurants in Gold Coast to satisfy all your cravings for Indian food.
Top Indian Restaurants in Gold Coast
Saffron Indian Gourmet
Authentically exquisite dishes mixing traditional Indian cuisine with contemporary flavors are served at Saffron restaurant. The flavors are complete, the spices are rich, and the bread is fresh, but the service is exceptional, and the tempting aroma of simmering herbs and spices makes everyone feel at ease. Their chefs infuse classic cuisine with their creative touch, using only the freshest products from local markets and authentic Indian spices.
Address : Mantra Sierra Grand, Gold Coast Hwy, Broadbeach QLD 4218 Contact number- (07) 5538 9291
Manihani Indian Restaurant
Expect a blend of Indian spices and herbs in every dish at a manihani Indian restaurant. All your authentic Indian curries are cooked with fresh and authentic Indian ingredients. On your visit, you must try their vindaloo paired with their freshly made naan. This restaurant is big enough for parties as it offers seats for up to 70 people.
Address :2737 Gold Coast Hwy, Broadbeach QLD 4218 Contact number- (07) 5526 9399
Dosa Hut – Indian Multi-Cuisine Restaurant
Dosa Hut, one of the best Indian restaurants in Australia, serves a wide variety of popular and innovative Indian meals from all across the country. They serve North Indian curries and traditional bread, Indo Chinese, Biryani, Street Chaat, Desserts, and more, in addition to South Indian favorites like Dosa and Idly.
Address : Gold Coast, Crestwood Plaza, Shop 1C/458 Olsen Ave, Molendinar QLD 4214 Contact number- (07) 5597 5850
Tandoor & Curry Hut Indian Restaurant
Tandoor & Curry Hut Indian Restaurant serves the most outstanding Indian cuisine. Order their delicious lamb rogan josh, creamy butter chicken, and lamb korma, which are all complemented with their best wines. After your dinner, indulge in some tasty gulab jamun and luscious kulfi. Their lovely decor and welcoming atmosphere help guests feel at ease and enjoy themselves.
Address : 133-135 Frank St, Labrador QLD 4215 Contact number- (07) 5528 1777
Goa Indian Fusion restaurant
Goa Indian fusion restaurant is an award-winning Indian restaurant and bar that serves a well-balanced fusion of Indian and contemporary cuisine. Goa Indian Fusion provides high-quality food and service at a reasonable price. Each dish's colors and flavors are enticingly rich and full of Indian herbs and spices.
Address : 5/17 Tedder Ave, Main Beach QLD 4217 Contact number- (07) 5679 3820
Other Popular Indian Restaurants In Gold Coast
Temple Of Spices Indian + Vegan Restaurant
Rasoi Master Restaurant Indian Authentic
Haveli Authentic Indian Cuisine
Amin's Kitchen
Coconut lagoon Indian Restaurant
Priyas surfers Indian Restaurant Surfers Paradise
Delhidarbar
Ginger Indian Gourmet
Other Cities With Popular Indian Restaurants In Australia
Are you seeking some delicious Indian food in Gold Coast? MyTicketsToIndia strives to make authentic Indian food accessible to all and we also help to provide affordable flight tickets to Gold coast from India.
We help you make the flight booking process simple and easy, with no hidden fees and instant payment options. To get the best deals on your flight bookings to India and back, Contact us today.
Have a safe and happy journey!
FAQ
Q. Does Manihani Indian Restaurant offer seating for more than 50 people?
Ans. Yes, Manihani Indian restaurant offers seats for big parties for up to 70 people.
Q. Does Dosa Hut restaurant have a bar?
Ans. Yes, you can choose from an extensive range of cocktails and mocktails at their fully licensed bar.
Q. Which of the restaurants above allow BYO wine?
Ans. Goa Indian Fusion restaurant offers BYO wine service.
A writer by both passion and profession, Heena Ganotra is "half agony, half hope" but all heart. And oh, she has been a book lover from the start! Her love for books is what convinced her to make a career in the wonderful world of words. She loves what she does and is out-and-out a satisfied soul with a wish to spread happiness like herpes. Insight- Some say she is living the best life anyone could because she reads, writes, travels, and makes merry. They're right because what else does one really need! 🙂