Last updated on Dec 1st, 2023 by Pawanpreet Kaur
As we all know that there are NO Michelin Star Restaurants in Australia yet which is a bummer because Australia has several top-notch quality restaurants that are worth the honour. The Michelin's Red Guide demands consistency and an aristocratic level of perfectionism that might be missing somewhere in Australian restaurants presently. Michelin's guidelines are all about extreme attention to detail, repetitive quality food and most importantly, the overall dining experience. But never mind, seeing the high spirits of some restaurants in Australia, the day is not far when the country will achieve its first Michelin Star and many more.
Meanwhile, let's delve deeper into the list of restaurants that are doing their best to maintain that consistency and standard that is required to get under the record of Michelin star Australia. We tried our best to round up the pick of the bunch for you to have a peerless culinary experience. So – let's go!
1. Quay – Sydney, New South Wales
Upper-Level Overseas Passenger Terminal, The Rocks NSW, Australia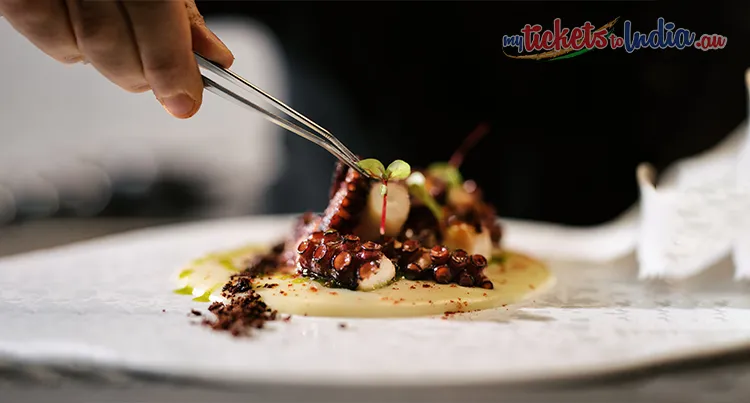 Overlooking the Sydney harbour, Quay Restaurant is a powerhouse of the fine dining experience – serving a hard-to-beat eight-course menu. All thanks to Executive Chef Peter Gilmore for discovering a state-of-art menu with delicately balanced dish elements. The restaurant has been winning Three Hats for the last 21 years consecutively in the Good Food Guide, making it a potential candidate for officially becoming one of the Michelin Star restaurants Sydney. The place is worth every cent and we also recommend you try the wine pairing with each course for an absolute heart-winning experience. Get your India to Sydney flights booked with us and try this epitome of fine dining and luxury.
Average Cost Details – Eight-Course Menu ($340), Temperance Pairing ($140), Quay Wine Pairing ($200), Sommelier Wine Pairing ($250) and Benchmark Wine Pairing ($1100). Prices are subject to change!
2. Longrain – Melbourne
44 Little Bourke St, Melbourne VIC 3000, Australia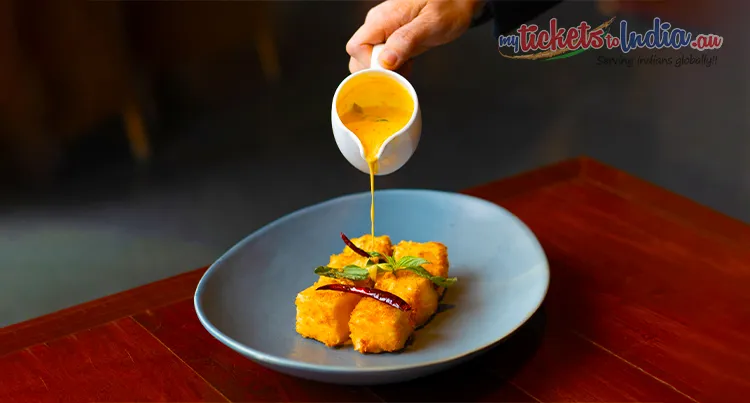 Talk of the town for its modern Thai flavours, punchy signature dishes and garden-grown ingredients, Longrain is an excellent option for Saturday night dinner scenes. Each dish is beautifully influenced by South East Asian taste with a fusion of modern ingredients. If Michelin Star restaurants in Melbourne ever become a thing, the dining experience at Longrain definitely would impress a Michelin inspector. The restaurant's perfectly balanced egg net, prawn betel leaf, mild to spicy curries, and caramelised wagyu will delight your palate to another level. If you are tired after your long India to Melbourne flight, take a stop at Longrain and see your senses coming alive in no time.
Average Cost Details – Lunch Banquet ($60), Regular Banquet Menu ($89), A La Carte prices differ as per dish, Beer (starting from $9), and cocktails (starting from $21).
3. Lenzerheide – Adelaide
146 Belair Rd, Hawthorn SA 5062, Australia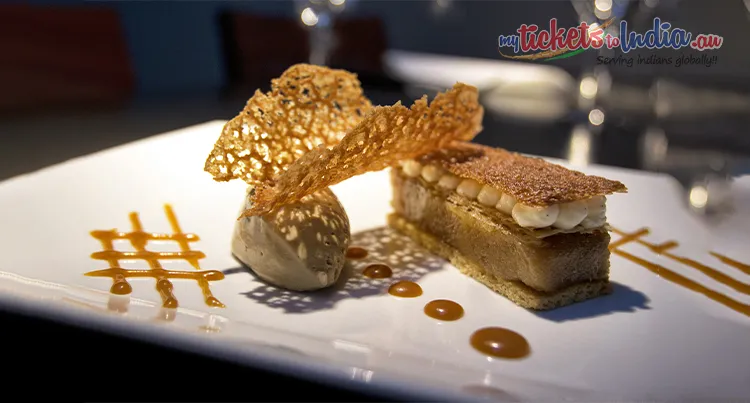 A synthesis of sophistication and luxury, Lenzerheide is an upscale Australian restaurant that continues to be a bright spot in Adelaide since 1989. Sitting amidst the former historical buildings, this could be one of the Michelin star restaurants Melbourne that has a quality to offer for an innovative culinary experience. One of the reasons behind its exceptional reputation is the two incredible chefs – Timothy Pearson and Mark Gaston that devoted themselves to making everything from the scratch. Since the year of its inception, Lenzerheide has won over 30 awards which again is another reason to give it a shot. Now get exploring with your India to Adelaide flights and taste the best of Lenzerheide's menu.
Average Cost Details – Main Course (starting from $40), High Tea (starting from $65 per person), soup and starters (starting from$4.5 ea)
4. Patina At Customs House – Brisbane
Customs House, 399 Queen St, Brisbane City QLD 4000, Australia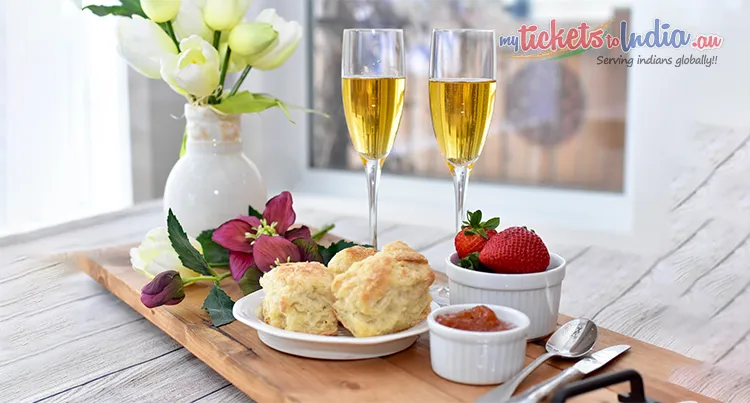 If there ever comes a list of Michelin star restaurants Australia, Patina At Customs House definitely would take a seat. This award-winning restaurant sits within the famous heritage building Customs House and ensures to make every penny worth of their guests. The outdoor sitting overlooking the beautiful view of the river with perfectly cooked dishes on the table is the main highlight here. If you are looking for the pleasure of fine dining at Michelin star restaurants Brisbane, you'll be truly spoilt for choice at the Patina. Those planning to get their India to Brisbane flights booked and explore the best in the taste of the city, the pork belly and fresh oysters here will give you the time of your life.
Average Cost Details – Patina's Group Menu (2 courses $80 per person, 3 courses $97 per person), Lunch Menu (2 courses $50 per person, 3 courses $65 per person), Champagne High Tea ($88 per person)
5. Wildflower – Perth
COMO The Treasury Level 4, 1 Cathedral Ave, Perth WA, Australia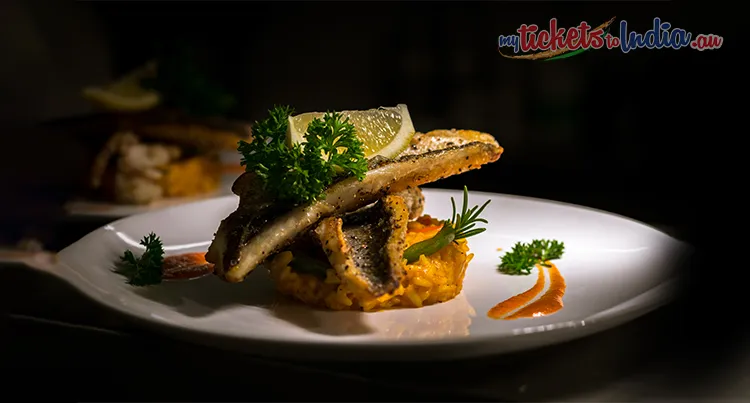 When nothing seems normal in life, give yourself a treat of fine dining at 2 or 3 Michelin star restaurants. Just like that, Wildflower in Perth creates magic with its innovation in the dishes, beautiful setting and fine dining experience. Every course meal you choose here is bang on and worth every penny spent. The balance of sauces, sides, fillings and even the garnish is conceptually on a higher level in both presentation and taste. Easily a very likely choice for the list of Michelin star restaurants Perth. Ask your cab to drop you at Wildflower after you land from a long India to Perth flight. Order chicken with macadamia, mushroom and caramelised onion and pair it with your choice of wine for absolute pleasure.
Average Cost Details – 4-Course Tasting Menu ($140 per person), Sommelier's Matched Wines (starting from $95 per person), 6-Course Tasting Menu ($180 per person), and 8-Course Tasting Menu ($230 per person)
6. Social Eating House – Gold Coast
Shop 137/3 Oracle Bvd, Broadbeach QLD 4218, Australia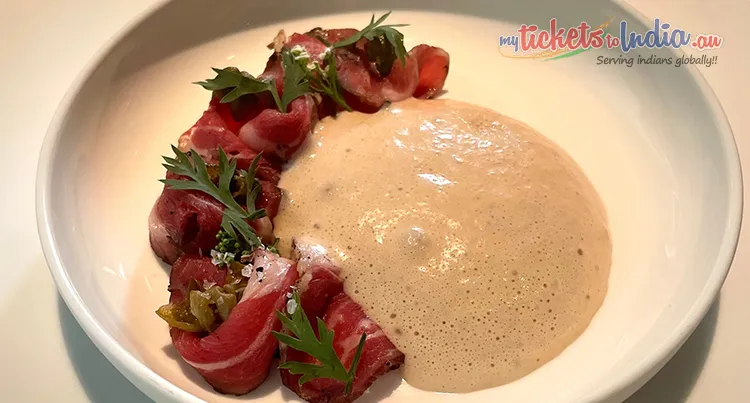 A well-deserving Michelin star Australia, Social Eating House serves up modern Australian taste with an incredibly fine menu and selection of beverages. The head chef Youngkyu 'YK' Reu makes sure to give every dish a balance, keeping it exuberantly original. Moreover, the exceptional desserts and deep wine selection is the icing on the cake. If you are anytime planning to get your India to Gold Coast flights booked, we suggest you reserve a table at Social Eating House for a heartwarming treat and services. Every dish in here is artistic for your Instagram and delicious enough to occupy space in your heart. Must-try here is lamb empanadas, burrata, house charcuterie and the king ceviche.

Average Cost Details – Bar Snacks (starting from $7), Small Plates (starting from $27), Large Plates (starting from $42) and Desserts from $23.
7. Eva's Botanic Gardens Cafe – Darwin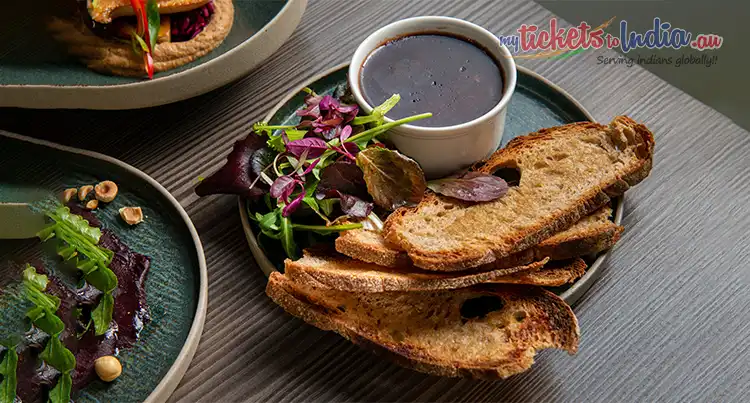 Gardens Rd, The Gardens NT 0820, Australia
If Singapore's street vendor can get a Michelin star then why cannot an absolutely clean and innovative garden cafe in Australia's Darwin? A spacious venue for breakfast, lunch and evening events, Eva's Botanic Gardens Cafe will successively make you feel at peace. Order the laksa poached eggs along with garlic and parmesan spaghetti and admire every heavenly bite. A stop at Eva's after your India to Darwin flights can definitely become a highlight of your whole trip. Everything here goes with the name 'Botanical Gardens', be it the greenery all around with a lively vibe and aesthetics. Again we say, an apt choice for the Michelin star restaurants Australia.
Average Cost Details – Housemade Breads & Desserts (starting from $5), Breakfast & Brunch (starting from $12), Pasta (starting from $15) with an option to add on house wine at $5. Kids' meals are also available at $10 including a popper juice.
Frequently Asked Questions
Q: What is a Michelin Star?
Ans: Call it a hallmark of culinary excellence, Michelin Star is only awarded to restaurants that meet the highest standards in taste and dining experience. The Michelin Guide 'The Red Guide' is published every year to recommend its drivers find eating places, hotels, and mechanics for their travels.
Q: How many Michelin Star restaurants in Australia?
Ans: There are no Michelin starred restaurants Australia currently as the Michelin Guide does not have a presence in AU. However, there are dozens of restaurants that will fulfil your heart and soul and would have appeared on the list.
Q: Which could be the possible names for Michelin star restaurants Sydney?
Ans: Quay and Tetsuya's in Sydney could get a Michelin star restaurant Sydney tag if Michelin ever publishes a guide in Australia. Both these places are a true example of fine dining experiences and a worth-each-penny meal.
Q: What do 3 Michelin star restaurants mean?
Ans: As per the Michelin guide, three Michelin stars for a restaurant means that this place is worth the money even for a special journey. This is the highest of all the achievements for restaurants clearly stating exceptional dining experience.
Q: Which are the deserving Michelin star restaurants Melbourne?
Ans: Longrain, Attica, Vue De Monde and Flower Drum are a few of the excellent places that could fulfil the eligibility criteria of Michelin guide in Melbourne. Some of these have got the chef hats and are an exceptional blend of food, ambience, location and quality services.
So that's all about the possible Michelin Star Restaurants in Australia. The information provided by us above is after a deep screening of the reviews submitted by the customers. Hopefully, will add more to this list in the coming future. Till then, you plan your India to Australia flights or back cheap international flights to India, and get ready to soothe your senses with the innovative tasting menus of Australian restaurants.
We are an IATA-licensed travel agency that strives to make travel easier and affordable for our patrons all around. We go above and beyond to match your travel requirements and make sure to help you with the best itineraries. With us you can get instant access to last-minute deals, call-only deals, group deals and much more to save extra on your airfare. To get an instant quotation, call us at 1800-860-816 and bag the best flight discount.
Pawanpreet is a versatile content writer and editor who enjoys experimenting with various niches of writing. Her keen eye for detail and love for thorough research helps her create high-quality content to outweigh clickbait. She extensively works for digital marketing and manages clients that range from travel to luxury goods. Her creativity is fueled by her love for learning new things, travelling, and the environment. Also, she is a free soul and an avid animal lover who believes in doing everything with a smile :)