Last updated on Sep 4th, 2023 by Renu Dahiya
Planning a trip to Andaman and Nicobar Islands? We have good news for you! On July 18, the Veer Savarkar International Airport in Port Blair witnessed the inauguration of its new integrated terminal building. The architectural design of this terminal draws inspiration from nature, featuring a striking shell-shaped structure that beautifully represents the surrounding sea and islands. Moreover, the terminal incorporates multiple sustainability features to ensure minimal adverse impact on the islands' environment.
Let's know more about this newly inaugurated terminal of Veer Savarkar International Airport, Port Blair below –
Union Civil Aviation Minister, Jyotiraditya Scindia Attended The Event
The Port Blair airport's new terminal inauguration ceremony was graced by the presence of Union Civil Aviation Minister, Jyotiraditya Scindia. Describing it as a new era of infrastructure for the Andaman and Nicobar Islands, Jyotiraditya Scindia praised the development wholeheartedly. He tweeted –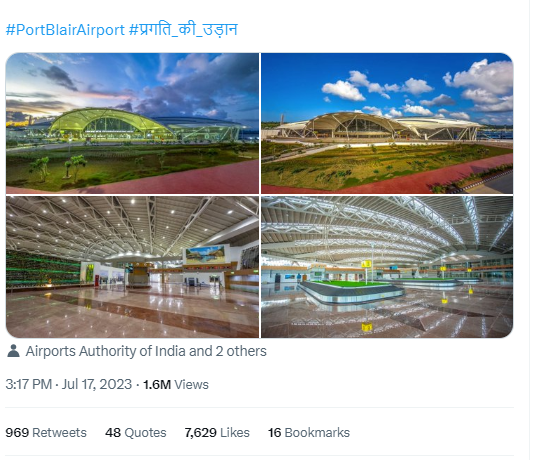 Remarkable Features Of Veer Savarkar International Airport's New Terminal
Huge Budget
The latest expansion aims to elevate connectivity and has been constructed at an approximate cost of Rs 710 crore. This significant investment will play a vital role in boosting overall connectivity. Additionally, a state-of-the-art Apron, designed for accommodating two Boeing-767-400 and two Airbus-321 aircraft, has been constructed at Port Blair Airport, costing Rs 80 Crore. As a result, the airport is now capable of accommodating up to 10 aircraft at once.
Expansive Capacity
Covering an impressive built-up area of 40,837 square meters, the terminal will have the capacity to efficiently accommodate 1,200 passengers during peak hours and serves around 40 lakh+ travellers annually.
Commitment To Sustainability
The building showcases an array of sustainability features, including a Double Insulated Roofing System for minimized heat gain, strategically positioned skylights to maximize natural daylight and reduce reliance on artificial lighting, energy-efficient LED lighting, and low heat gain glazing. Furthermore, it boasts a rainwater storage system in an underground tank, an on-site sewage treatment plant with 100% recycled wastewater for landscaping, and a 500 KW solar power plant, adding to the terminal's eco-friendly credentials.
Abundant Natural Light
Innovative design ensures the terminal basks in 12 hours of 100% natural lighting daily, thanks to skillfully integrated skylights along the roof that maximize the use of natural daylight.
Captivating Shell-Shaped Design
Inspired by the mesmerizing geography and natural allure of the Andaman and Nicobar Islands, the terminal boasts a truly iconic and distinct shell-shaped architectural marvel.
Cutting-Edge Facilities
Enhancing passenger convenience, the terminal features 28 check-in counters for smooth flow, three passenger boarding bridges for easy boarding and disembarking, and four conveyor belts for efficient baggage handling.
Conclusion
The inauguration of the new integrated terminal at Veer Savarkar International Airport in Port Blair marks a significant milestone in the region's infrastructure development. With its nature-inspired shell-shaped design, eco-friendly features, and enhanced facilities, the terminal promises to offer a seamless and sustainable travel experience for millions of passengers annually.
This remarkable addition will undoubtedly contribute to the growth and prosperity of the Andaman and Nicobar Islands, enhancing their appeal as a premier travel destination. So, the next time you plan a trip to Andaman and Nicobar Islands, Port Blair and book your Australia to India flights, do explore this newly inaugurated beautiful terminal of Veer Savarkar International Airport, Port Blair.
That is almost everything we have to share about the newly inaugurated terminal of Veer Savarkar International Airport, Port Blair.
For more such updates and interesting pieces, go through our blog section. We try to cover everything related to travel and keep travellers updated. If you have any travel-related queries or looking to reserve flights from Australia to India (and back), contact our team of travel experts. We'll provide you with the best quotes and resolve all your queries at the earliest possible.

MyTicketsToIndia is a leading flight-booking platform that offers an extensive range of options and exclusive discounts on Australia-India flights. We implement a customer-centric approach and do our very best to make all your travel dreams come true without the need to blow a fortune on flight tickets.
Renu Dahiya is a passionate writer who worships her profession. Her love for writing has encouraged her to pursue her career as a writer. Her friends call her a "travel worm" and always come to her to know some interesting traveling tips and destinations. Renu is a repository of knowledge about traveling who knows which place should be visited in which season. Oh yes, she is insanely in love with dancing too. Writer, traveler and dancer, a perfect combination! Without a doubt, she is a complete package.