Last updated on Nov 28th, 2023 by Navneet Kaur
In the most considerable relaxation for international arrivals in India since COVID-19, the government has allowed travelers to upload their complete primary COVID-19 vaccination certificates; thereby removing the RT-PCR mandatory test. This program is valid for 82 countries on a mutually acceptable basis and came into effect on 14 February 2022. The guideline was, however, released on 10 February 2022.
The Union Health Ministry has also removed the list of "at-risk" countries and replaced it with another list of countries regarding which uploading of Primary Immunization Schedule Completion Certificates is allowed.
These include 89 countries of which some are – Australia, Canada, Hong Kong, Maldives, New Zealand, Netherlands, Qatar, Singapore, Switzerland, UK, USA, and some European countries.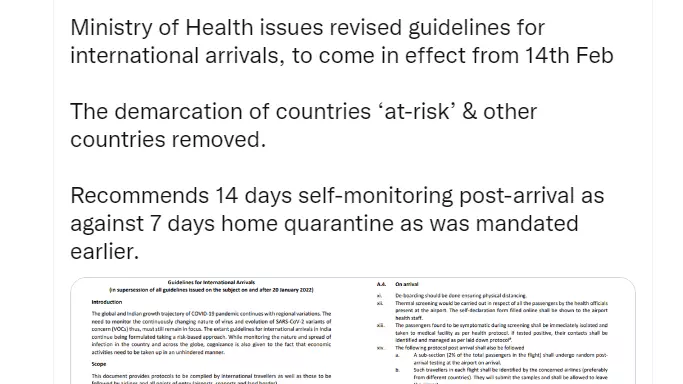 Latest Covid-19 Guidelines For International India Travelers
The Government of India has issued new COVID-19 guidelines for incoming international travelers. As per the new guideline, a mandatory 72 hours report of RT-PCR is no longer required, and passengers can show their complete vaccination certificate. This means that if you are traveling from Australia to India or any other country on the list, you do not need to present an RT-PCR report if you are fully vaccinated.
"Ministry of Health has issued Revised Guidelines for International Arrival Guidelines to be effective from February 14, follow these diligently, stay safe and strengthen India's hands in the fight against COVID-19." Union Health Minister tweeted.
In its latest policies, the government has decided that passengers arriving in India will not have to undergo even the mandatory RT-PCR test that was supposed to be taken 8 days after the arrival.
However, airlines will only allow those passengers to board who would have filled all the information in the self-declaration form on the Air Suvidha portal and COVID-19 vaccination certificate.
Also, according to the revised guidelines for international arrivals issued on Thursday, passengers arriving in India will not have to undergo mandatory seven-day home quarantine.
Union Health Minister's Statement
Union Health Minister Mansukh Mandaviya said on Twitter that random sampling would be done on the arrival of 2 percent of international travelers coming from all countries. They can give their samples, and after that, they will be allowed to leave the airport.
The Union Health Minister further tweeted, "In addition to uploading the negative RT-PCR report (taken 72 hours before travel), complete primary immunization schedule of COVID-19 vaccination provided from countries on a reciprocal basis. Option to upload certificate. Self-monitoring after arrival as against 14 days 7 days home quarantine. The need to conduct RT-PCR test on 8th day and upload it on Air Suvidha portal has been done away with."
Summary Of Guidelines For International Arrivals
RT-PCR's mandatory 72 hours report is no longer required, and passengers can show their complete vaccination certificate.
Upon arrival, symptomatic passengers during screening will be immediately isolated and taken to a medical facility as per health protocols. If tested positive, their contacts will be identified and managed as per the prescribed protocol.
If such passengers test positive, their samples should be further sent to the INSACOG laboratory network for genomic testing. The guidelines state that they will be treated/isolated as standard protocols.
This big relaxation is bound to boost Australia to India travel & other overseas inbound travel to India if the suspension of scheduled commercial flights is lifted as fares under bubble flights are too high.
So, if you are planning for Australia to India travel, you can easily book your cheap flights to India from Australia with the help of our trusted portal. At MyTicketsToIndia, we'll help you choose the best deal for your travel plans. Also, our travel experts will provide you with the essential guidelines to follow before boarding your flight to India.
For more information on travel directions and available flight deals, you can contact us at 1800-860-816!
More Related Articles
State-wise Quarantine Guidelines For Travelers From Australia To India
Australia Lifts 18-month long International Travel Ban
Covid Curbs Relaxed, Regular Flights Likely To Resume In A Month
Covid 19 Australia Travel Restrictions | When Will International Travel Australia Ban Lift?
Latest: Australia to Allow Travelers to Enter Without a Pre-Departure Covid-19 Test
India to Australia Travel Demand Increases: Numbers Expected To Reach Pre-Covid Levels
Navneet Kaur is a Professional Content Writer with 5+ years of experience, she started her career as a Content Writer. Apart from having good knowledge of marketing and business, she firmly believes in dreaming big and making them come true. She lives with a passion to explore and learn about adventure, destinations, history and live events happening around. Including her travel writing skills, she has also written about places, arts and entertainment, personal experiences, nature and its beauty, etc.